Where We Go
As your neighbors and fellow artisans, we are committed to your success every step of the way, from farm to table and back again.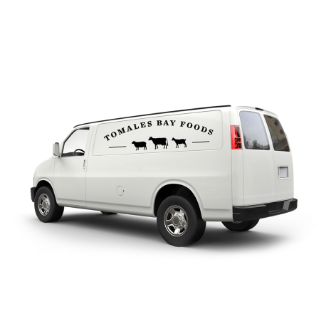 Deliveries and Pickup
DELIVERIES
Marin: Tuesday
San Francisco: Wednesday
Sonoma: Thursday
Napa and South Bay: Friday
PETALUMA WAREHOUSE PICKUP
Will-call is available Monday-Friday 9am-noon. Inquire with us when placing your order.
Please have your order placed by 12pm the business day prior to your pickup/delivery day.
Shipping info
FedEx
It is our goal to ship cheese to you in the best possible condition. We use FedEx as our primary carrier because we trust their commitment to provide Tomales Bay Foods with the best service.
We only ship within the U.S.
We ship Monday through Thursday for all customers
Default shipping is Overnight
All shipping is weather dependent. In the unlikely event that there is a problem with your delivery arriving on time, we will do our best to follow up with FedEx to determine what happened.
Orders are due by noon the business day prior to the ship date
Southwest Air
We have partnered with Southwest Airlines to get larger orders to our long-distance customers at a more affordable rate.
We ship all Southwest orders out of Oakland International Airport on Tuesday mornings PST
Orders are due by noon on Monday
Orders will arrive to their destination airport for pick up by the customer (an air bill number will be provided for tracking purposes)